World Class Clubhouse with Fitness Center and Grille
The Bay Forest Clubhouse offers residents a range of activities, including a recreational pool designed with interactive features such as slides, a water volleyball court and a lazy river. A second pool, designed primarily for adults, is heated and features a shallow depth sunning ledge and a lap pool for exercise. A third pool for tots provides a full complement of swimming options for Bay Forest residents and their guests. The facility includes an expansive fitness center, a bar/restaurant, gathering areas for meetings and events, and outdoor patios. The expansive grounds, with open areas and a tot lot, offer a beautiful setting for the entire facility.
Second Community Clubhouse and Recreation Barn – Now Open!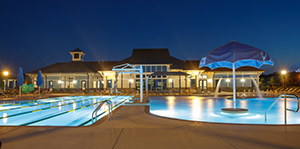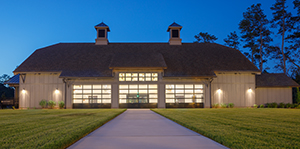 ×
3 Community Pools
Bay Forest features three pools, a waterpark which includes two slides, a lazy river and a lap pool which includes five lanes and a one-foot area for lounge chair seating. There is also a separate tot pool for little ones. Locker rooms, bathrooms and showers are also available.
Bocce Ball
A Bocce Ball court is located in the grassy area between the main parking lot and the Villas close to Bay Forest Drive. Balls are available at the Greeters desk. The court is open all the time and there is no cost.
Basketball & Volley Ball Courts
Located adjacent to the community pool area are well-maintained basketball and volley ball courts.
Tennis Center
The Tennis Center, with four lighted hard courts, is located adjacent to the Bay Forest Clubhouse and is anchored by landscaped gardens and a Pavilion including a screened- in seating area, restrooms and vending for refreshments.
Boat House
When completed, the Bay Forest Boathouse will be located at the shallow water marina at the mouth of the Collins Creek Tributary. Community kayaks and canoes are housed at this facility.
Nature Trails & Walking/Biking Paths
The discrete neighborhoods of the community are interconnected with the Bay Forest Clubhouse by several miles of walking paths and foot bridges, which traverse an Environmental setting unique to Bay Forest giving residents access to the natural areas of the property.
Shuttle to the Beach
The town of Bethany is just a shuttle ride away. Enjoy a day at the beach without having to fight for a parking space.
Playgrounds and Open Space
There is a play area in the woods off Bay Forest Drive between Skimmer Road and the traffic circle by the Villa condos. Follow one of the neighborhood walking trails to this peaceful site. A second play area is located next to the tennis courts.
Pier / Boat Launch
What a way to take in nature than calmly paddling across Collins Creek in a kayak or canoe. Or to drop a line and test your crabbing skills. Either way, you'll not find a better use of your time to calm your mind and rest your soul.
Community Herb Garden
Our herb garden offers a relaxing setting, complimented by a hearty array of culinary, medicinal, aromatic, and flowering plants to be enjoyed by the Community.